Product Description
Vertical using in building materials slurry pump Description:
ZJL Series Slurry Pump is a single stage, single-suction vertical centrifugal pump with designed according to the principle of minimum loss in theory of liquid-solid two-phase flow. The Geometry of wet parts conform to the state of follow medium, and reduce hydraulic loss partially in vortex, impact or along the way, reducing the wear of flow passage components, improving hydraulic efficiency, and reducing running noise and vibration; the series of flow passage components are made of high hard alloy cast iron which has high antiwear property,corrosion resistance, and impact resistance, improving the service life. ZJL slurry pump doesn't need any shaft seal and seal water when it generally immerses the pool or pit to work.
The series of submerged pump with lengthening shaft is suitable for working condition with deep liquid level. The series of pump is suitable for conveying abrasive and corrosive slurry with solid particles in mining, metallurgy, power, coal, chemical industry, building materials and other industries, and maximum weight concentration of solid-liquid mixture is: Mortar 45%, ore pulp 60%.
Vertical using in building materials slurry pump Structure: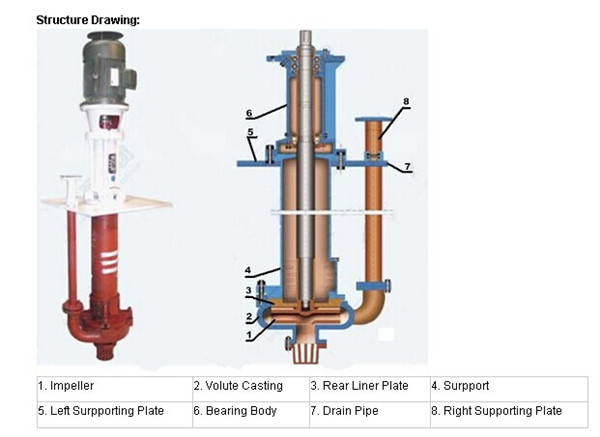 SPECIFICATIONS
• Single Case, Single Stage, Single-Suction, Vertical Slurry Pump
• Volute Casing : High Chrome Alloy
• Impeller Material: High Chrome Alloy
• Rear Liner Plate: High Chrome Alloy
• Discharge Size: 2 [ to 14 [
• Flow rate: Up to 2,106.9GPM
• Head: Up to 264.11 `
• Temprature of Slurry Handing: Max. 60 Degree Celsius
• pH Levels of Slurry Handing:5-12
• Concentration of Ash Slurry Handing: 45% By Weight
• Concentration of Ore/Coal Slurry Handing: 60% By Weight