Product Description
Product Introduction
BH slurry pump is a single suction,cantilevered, double pump shell centrifugal slurry pump. Apply to the industrial sector electricity, metallurgy, mining, coal, building materials, chemical industry, transport of high lift abrasive or corrosive slurry.
BH slurry pump body and cover can be replaced with metal lining,lining materials for high chromium wear-resistant alloy material, has been used in lining wear, prolong the repair period, reduce the operating cost. Export pump according to the 8 rotation installation.

Main Parameter
Flow components are made of special materials, corrosion resistant performance is good.
The special treatment for the water, use to ash and water and salt spray corrosion condition.
In the pressure within the range can be connected in series., the maximum allowable working pressure is 3.6MPa.
Horizontal Abrasion & Corrosion Resistant Slurry Pump Type Selection:
Refering to the performance curves of the pump the selected capacity range should be as follows:
Pump Type BM, BH: 40-80% for higher density, strong abrasive slurries
40-80% for medium density, medium abrasive slurries
40-120% for lower density, lower abrasive slurries
Horizontal Abrasion & Corrosion Resistant Slurry Pump Performance Table:
Type

Allowable Mating Max.Power(kw)

Clear Water Performance

Impeller

Capacity Q

Head

H
(m)

Speed

n
(r/min)

Max EFF η(%)

NPSH)
(m)

No of Vanes

Impel Dia(mm)

(m3/h)

(L/S)

1.5/1B-BH

15

12.6-28.8

3.5-8

6-68

1200-3800

40

2-4

5

152

2/1.5B-BH

15

32.4-72

9-20

6-58

1200-3200

45

3.5-8

5

184

3/2C-BH

30

39.6-86.4

11-24

12-64

1300-2700

55

4-6

5

214

4/3C-BH

30

86.4-198

24-55

9-52

1000-2200

71

4-6

5

245

4/3D-BH

60

6/4D-BH

60

162-360

45-100

12-56

800-1550

65

5-8

5

365

6/4E-BH

120

6/4D-BH

60

180-396

50-110

7-61

600-1600

55

3-8

4

372

6/4E-BH

120

8/6E-BH

120

360-828

100-230

10-61

500-1140

72

2-9

5

510

8/6R-BH

300

8/6E-BH

120

360-828

100-230

7-52

400-1000

70

2.5-6

4

536

8/6R-BH

300

360-828

100-230

7-52

400-1000

70

2.5-6

4

536

10/8ST-BH

560

612-1368

170-380

11-61

400-850

71

4-10

5

686

12/10ST-BH

560

936-1980

260-550

7-68

300-800

82

6

5

762

14/12ST-BH

560

1260-2772

350-770

13-63

300-600

77

3-10

5

965

16/14ST-BH

560

1368-3060

380-850

11-63

250-550

79

4-10

5

1067

16/14TU-BH

1200

10/8E-BM

120

540-1440

150-400

14-60

600-1100

73

4-10

5

549
* Dimensionally Interchangeable with:
BM ≈Warman®M
BH≈Warman®AH
Horizontal Abrasion & Corrosion Resistant Slurry Pump Structure: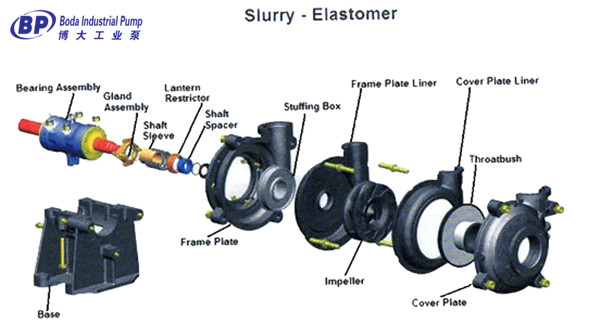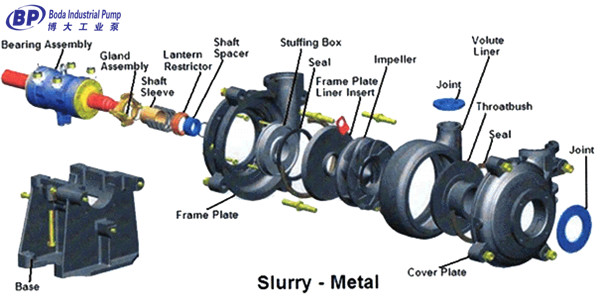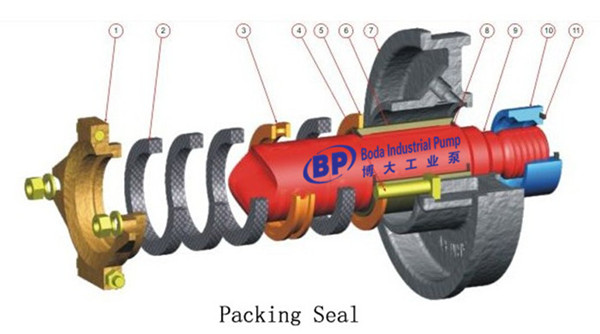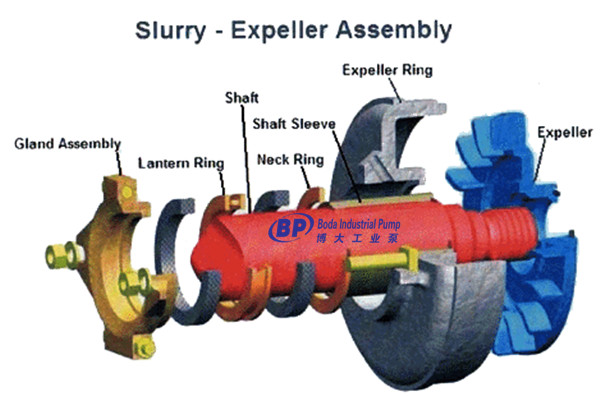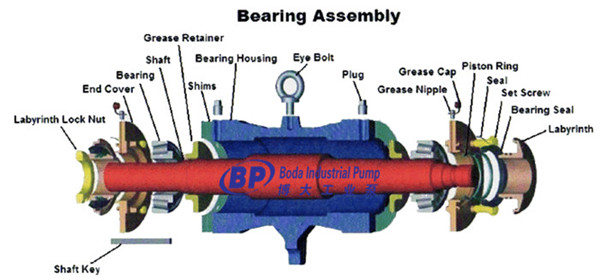 Horizontal Abrasion & Corrosion Resistant Slurry Pump Application: