Product Description
The TZG(H) Heavy duty centrifugal sand gravel pump is single-stage single-suction horizontal
centrifugal pump, connected by belt. It is light, good anti-cavitation performance and easy to install.
It is applied to conveying of sands, mud and slurry with bigger solid particles.
Gravel pump is consisted by casing, seal devices, bearing devices and frame. It is lubricated by grease. The materials of working parts are wear-resistance alloy or alloy steel, the hardness is no less than 58HRC.

Features:
1. Horizontal, cantilevered, single-casing structure, centrifugal pump.
2. Wide passage , good performance of NPSH, anti-wearing and anti-corrosion, high efficiency
3. Easy installation, discharge outlet can be adjusted at any direction of 360.

Application:
Series TZG(H) sand dredge pump is widely used in the sand excavation, dredging, mining, coal washery, power plant, metallurgy, suction hopper, petrochemical and other industrial departments, etc.
Gravel Slurry Pump Structure: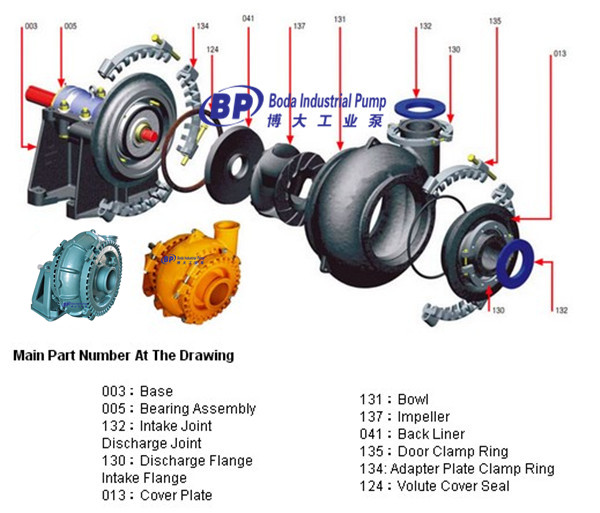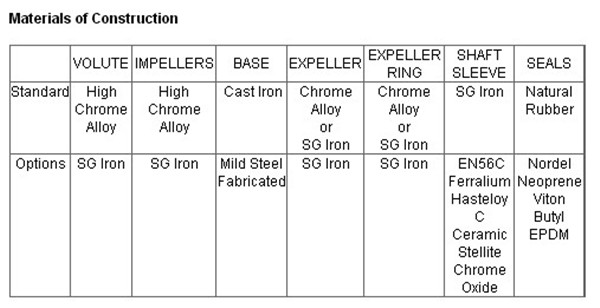 Gravel Slurry Pump Performance Table:
Type

Capacity

(l/s)

Head

(m)

Speed

(r/min)

Efficiency

(%)

NPSHr

(m)

Inlet Size

(mm)

Outlet Size

(mm)

Max.Diameter of flowed particle (mm)

100TZG-PD

10-70

3.5-51

600-1400

30-50

2.5-3.5

150

100

82

150TZG-PE

38-160

10-48

800-1400

50-60

3-4.5

200

150

127

200TZG-PS

60-272

13-50

500-1000

45-65

3-7.5

250

200

178

200TZGH-PS

100-360

28-80

500-950

60-72

2-5

250

200

180

250TZG-PF

100-420

11-58

400-850

50-70

2-4.5

300

250

220

250TZGH-PG

170-620

28-78

350-700

60-73

2-8

300

250

210

300TZG-PG

140-880

6-66

300-700

60-68

2-8

350

300

241

400TZG-PT

240-1060

9-48

250-500

60-72

3-6

450

400

254
* Dimensionally Interchangeable with:

TZG(H) ≈Warman®G(H)
Application: