Product Description
Product Description
The high chrome slurry pump discharge outlet of the centrifugal slurry pump can be adjusted with rotation interval of 45 degree, the pumps can be operated in series and driven with belt. The shaft seal can adopt expeller type shaft sealing, gland packing assembly and mechanical sealing.


Features
1. Double casings design centrifugal slurry pump, wide passage for solids;
2. Bearing assembly & frame: Both standard & high capacity type available. A large diameter shaft with a short overhang minimizes deflection and vibration. Heavy duty roller bearing are housed in a removable bearing cartridge. Pump body is fastened with the frame by minimum bolts. Impeller adjustment is provided in a convenient position below the bearing assembly.
3. Impeller & liner material: high chrome white iron, etc.
4. Impeller type: open or closed
5. Interchangeable wet parts material: High chrome alloy metal: PH: 5-12
6. Shaft seal: Packing seal, centrifugal seal, mechanical seal;
7. Discharge branch: 8 positions in each 45°;
8. Driving type: V-belt, flexible coupling, gearbox, hydraulic coupler, etc..
Horizontal Abrasion & Corrosion Resistant Slurry Pump Performance Table:
Type

Allowable Mating Max.Power(kw)

Clear Water Performance

Impeller

Capacity Q

Head

H
(m)

Speed

n
(r/min)

Max EFF η(%)

NPSH)
(m)

No of Vanes

Impel Dia(mm)

(m3/h)

(L/S)

1.5/1B-BH

15

12.6-28.8

3.5-8

6-68

1200-3800

40

2-4

5

152

2/1.5B-BH

15

32.4-72

9-20

6-58

1200-3200

45

3.5-8

5

184

3/2C-BH

30

39.6-86.4

11-24

12-64

1300-2700

55

4-6

5

214

4/3C-BH

30

86.4-198

24-55

9-52

1000-2200

71

4-6

5

245

4/3D-BH

60

6/4D-BH

60

162-360

45-100

12-56

800-1550

65

5-8

5

365

6/4E-BH

120

6/4D-BH

60

180-396

50-110

7-61

600-1600

55

3-8

4

372

6/4E-BH

120

8/6E-BH

120

360-828

100-230

10-61

500-1140

72

2-9

5

510

8/6R-BH

300

8/6E-BH

120

360-828

100-230

7-52

400-1000

70

2.5-6

4

536

8/6R-BH

300

360-828

100-230

7-52

400-1000

70

2.5-6

4

536

10/8ST-BH

560

612-1368

170-380

11-61

400-850

71

4-10

5

686

12/10ST-BH

560

936-1980

260-550

7-68

300-800

82

6

5

762

14/12ST-BH

560

1260-2772

350-770

13-63

300-600

77

3-10

5

965

16/14ST-BH

560

1368-3060

380-850

11-63

250-550

79

4-10

5

1067

16/14TU-BH

1200

10/8E-BM

120

540-1440

150-400

14-60

600-1100

73

4-10

5

549
* Dimensionally Interchangeable with:
BM ≈Warman®M
BH≈Warman®AH
Horizontal Abrasion & Corrosion Resistant Slurry Pump Structure: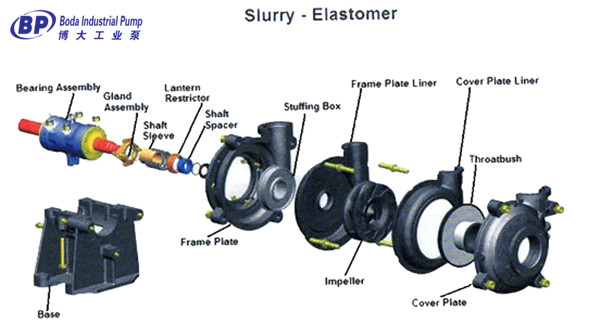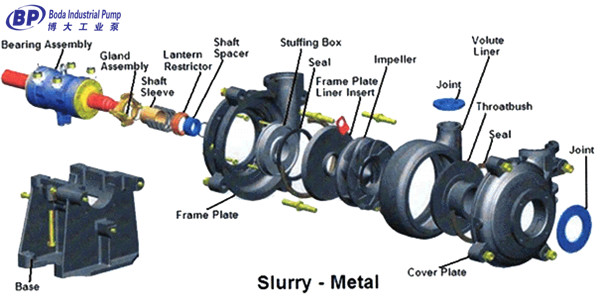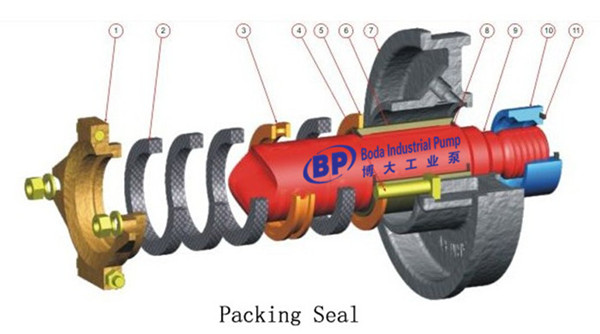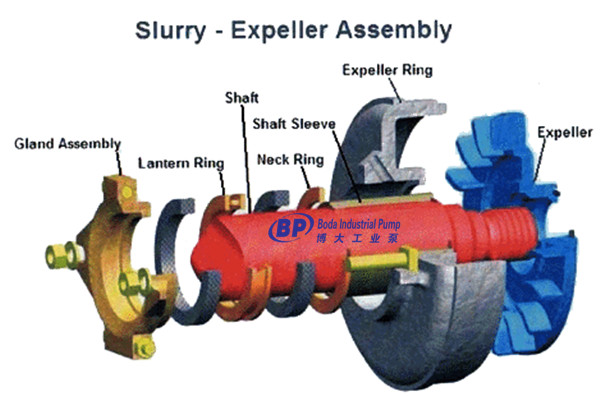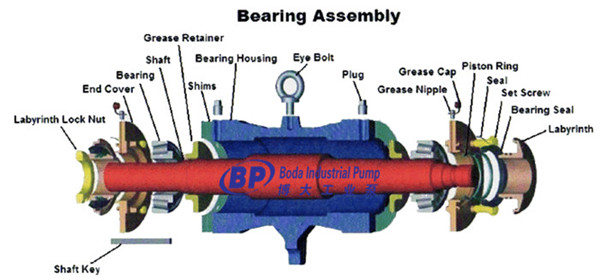 Horizontal Abrasion & Corrosion Resistant Slurry Pump Application: