Product Description
Product Description
BH series horizontal and cantilever centrifugal slurry pumps are used widely throughout the beneficiation section of the mining industry.
Features:
1). Cantilever, horizontal centrifugal slurry pump;
2). Better wear-resistance and corrosive resistance;
3). Frame plate for type pumps have replaceable wear-resistant metal (high chrome alloy) liners or rubber liners. The impellers are made of wear-resistant metal (high chrome alloy) or Natural rubber;
4). In allowable pressure range, it can be used in series in stages, and allowable maximum working pressure is 3.6Mpa;
5). Expeller seal, mechanical seal and packing seal are available;
6). The discharge branch can be positioned at interval of 45 degrees by request and oriented to any eight positions to suit installations and applications;
7). To adapt to convey heavy abrasion, high concentration dreg , BH slurry pump's body is used double-deck construction , in other words, being made of inside lining and outside shell.

Application:
BH slurry pumps are also widely used for the disposal of ash from power plants the manufacture of fertilizers, and the long distance transportation of coal and minerals.
Technical Data:
Flow range:12~5040m3/h
Head range:5~90m
Caliber:25~400mm
Slurry Pump Performance Table:
Type

Allowable Mating Max.Power(kw)

Clear Water Performance

Impeller

Capacity Q

Head

H
(m)

Speed

n
(r/min)

Max EFF η(%)

NPSH)
(m)

No of Vanes

Impel Dia(mm)

(m3/h)

(L/S)

1.5/1B-BH

15

12.6-28.8

3.5-8

6-68

1200-3800

40

2-4

5

152

2/1.5B-BH

15

32.4-72

9-20

6-58

1200-3200

45

3.5-8

5

184

3/2C-BH

30

39.6-86.4

11-24

12-64

1300-2700

55

4-6

5

214

4/3C-BH

30

86.4-198

24-55

9-52

1000-2200

71

4-6

5

245

4/3D-BH

60

6/4D-BH

60

162-360

45-100

12-56

800-1550

65

5-8

5

365

6/4E-BH

120

6/4D-BH

60

180-396

50-110

7-61

600-1600

55

3-8

4

372

6/4E-BH

120

8/6E-BH

120

360-828

100-230

10-61

500-1140

72

2-9

5

510

8/6R-BH

300

8/6E-BH

120

360-828

100-230

7-52

400-1000

70

2.5-6

4

536

8/6R-BH

300

360-828

100-230

7-52

400-1000

70

2.5-6

4

536

10/8ST-BH

560

612-1368

170-380

11-61

400-850

71

4-10

5

686

12/10ST-BH

560

936-1980

260-550

7-68

300-800

82

6

5

762

14/12ST-BH

560

1260-2772

350-770

13-63

300-600

77

3-10

5

965

16/14ST-BH

560

1368-3060

380-850

11-63

250-550

79

4-10

5

1067

16/14TU-BH

1200

10/8E-BM

120

540-1440

150-400

14-60

600-1100

73

4-10

5

549
* Dimensionally Interchangeable with:
BM ≈Warman®M
BH≈Warman®AH
Horizontal Abrasion & Corrosion Resistant Slurry Pump Structure: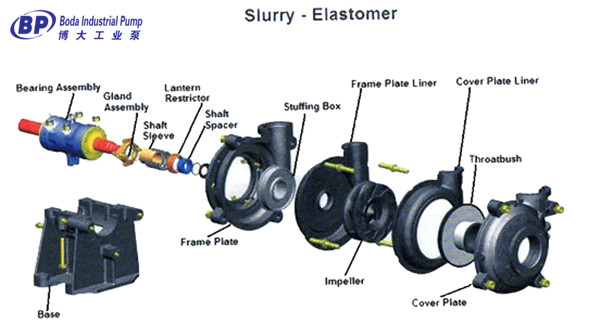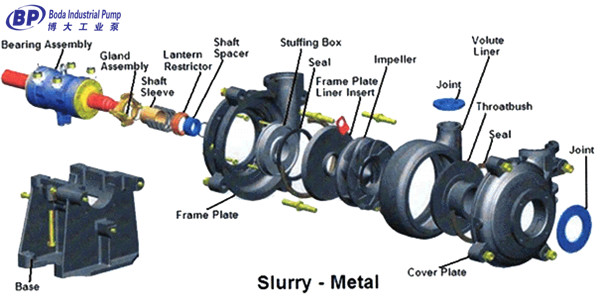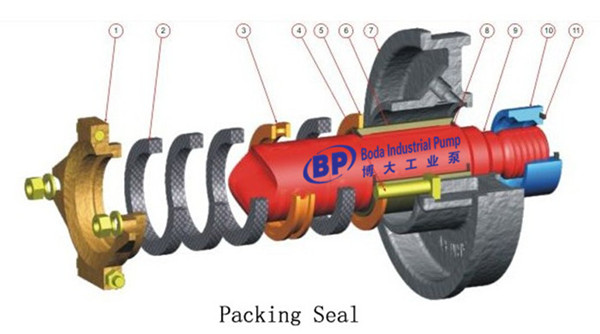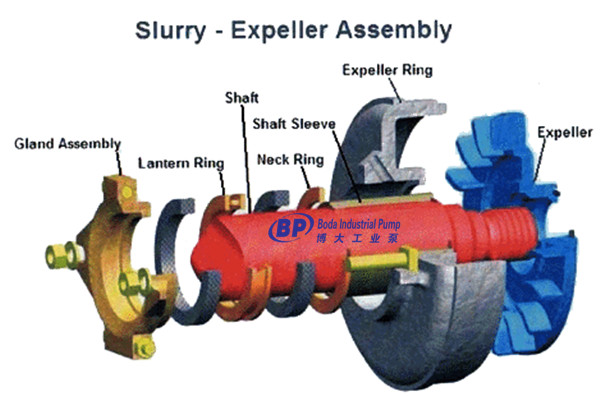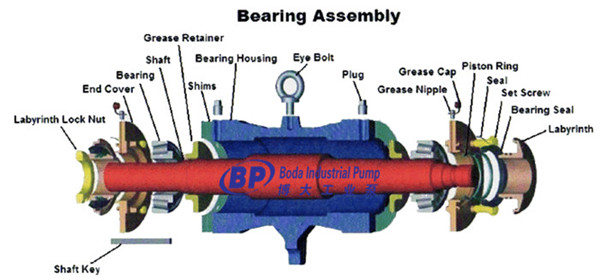 Horizontal Abrasion & Corrosion Resistant Slurry Pump Application: