Product Description
Horizontal Centrifugal Slurry Pump
General:
The ZJ(G) series slurry pump, which are created by Shijiazhuang Boda Industrial Pump Co., Ltd, is a new generation anti-wear, energy saving slurry pump. The ZJ(G) series pumps used international advanced solid-liquid two-phase flow theory and were designed using the minimum-wear principle. The flow parts of these pumps are suitable for the flow of state media for it's set shape, which reduces hydraulic loss of eddy and impact, both in pump and along the pipelines; So reduced friction of flow parts, lower noise and vibration of the pump translates into improved hydraulic efficiency.
The ZJ(G) series pumps are cased in hard-alloy which is a high anti-wear and high anti-corrosion impact resistance material, which means the pump will have a longer service life. In addition, this series pumps used an automatic reduced pressure system to avoid liquid leakage.
The ZJ(G) series slurry pumps are widely used in mining, metallurgy, power, coal and building material sectors. The ZJ(G) series pumps are suitable for handling abrasive and corrosive solids-bearing slurry with maximum concentrations of wt. 45% (ash) and wt. 60% (ore).
We have all kinds of ZJ(G) series slurry pumps, all of which can be made of directly driven (DC), directly driven via hydraulic coupling(HC), belt driven, and they can be operated in tandem and parallel positions according to the requirements of the customer.
Notation:
200ZJ(G)-I-A60(58)
200 Outlet diameter(mm)
ZJ denotes slurry pumps ( ZJL denotes vertical pumps, ZJD-single-case pumps)
(G) High-head (usually can be omitted)
I single stage pump ( II denotes th second stage pump)
A number of vanes of impeller ( A denotes 5 vanes, B--4 vanes, C--3 vanes, D--2 vanes)
60 External diameter of impeller (cm)
58 External diameter of impeller after incision (cm)
Application Field:
. Metallurgy and mine: Transport black and colored course-mine, fine-mine and slurry of end-mine, etc.
. Electric power: Transport ash mud&slurry in electric power, etc.
. Coal: Transport various course & fine coal mud, etc.
. Contruction material: Transport various slurry contain mud & sand, etc.
. Chemical industry departments: Transport every kinds of abrasive and corrosive slurry in the
Phosphorus and kalium manufactories, etc.
. Environmental protection: Flue gas desulfuration and transportation of gypsum mortar, etc.
The superior material & technique of wear-resistant:
Hydraulic adopted hydraulic design, wear abrasion of pump parts can be improved
Effectively. It is most important for the lifetime of pump that if selected material is fit for
The liquid. According to the concrete circumstance of each conditions, our limited
Analyzes seriously its basic wear mechanism & wear regulation, selects suitable serial
A material of wear-resistant & corrosion-resistant or other metal & nonmetal wear-resistant material for wear flow parts so as to combine the operation request of pump
And the select parts best to get super operation benefit.
The wear abrasion is various. Usually serials A material of wear- resistant & corrosionresistant is selected to transport liquid according to its quality,
Grain diameter, corrosive performance, temperature and etc. It is serials antiwear
Material which is introduced and developed by ourselves according to practice
Experience of 50 years. Its hardness is HRC35-68, and has more than 30 types such as type antiwear, type anticorrosion,
Type special acid and etc. They can be selected by customers.
Among others, our company based on the introduced technique, associates with
Internal first class colleges and institutes to develop wearresistant alloy cast iron of
A05, A07 and etc. Anti-wear can be enhanced 30% than regular similar materials.
Horizontal Centrifugal Slurry Pump Technical Data:
Type
Speed
Capacity
Head
NPSH
rpm
m³/h
m
m
300ZJ-I-100A
490/590
758-1826
40.9-65.2
3-4.1
300ZJ-I-95A
490/590
720-1735
36.9-58.8
3-4.1
300ZJ-I-90A
590/730
745-1844
46.2-79.9
3.9-5.7
300ZJ-I-85A
590/730
704-1742
41.2-71.3
3.8-5.6
300ZJ-I-70A
730/980
945-2333
35.5-76.8
3.9-7
300ZJ-I-65A
730/980
877-2166
30.6-66.2
3.7-6.6
300ZJ-I-56A
730/980
588-1568
21.5-46
3.5-5.5
250ZJ-103A
590/730
593-1573
64.6-110.5
2.8-4.3
250ZJ-I-96A
590/730
595-1466
55.2-93.7
3.5-5.5
250ZJ-I-90A
590/730
558-1374
48.5-82.4
3.4-5.3
250ZJ-I-85A
730/980
560-1504
66.8-128.7
3.5-5.5
250ZJ-I-83A
730/980
547-1469
63.7-122.7
3.5-5.5
250ZJ-I-80A
730/980
527-1416
59.2-114
3.4-5.4
250ZJ-I-78A
730/980
514-1380
56.3-108.4
3.2-5.1
250ZJ-I-75A
730/980
447-1480
46.2-97.5
3-4.1
250ZJ-I-73A
730/980
435-1441
43.8-92.4
3-4.1
250ZJ-I-70A
730/980
417-1381
40.2-84.9
2.9-3.9
250ZJ-I-68A
730/980
405-1342
38-80.1
2.7-3.7
250ZJ-I-65A
730/980
445-1249
34.1-71
3-4.5
250ZJ-I-63A
730/980
431-1211
32-66.7
3-4.5
250ZJ-I-60A
730/980
411-1153
29.1-60.5
2.8-4.2
200ZJ-I-85A
730/980
329-907
71-133.7
2.8-5
200ZJ-I-75A
730/980
335-900
50.5-102.9
3-4.5
200ZJ-I-73A
730-980
326-876
47.8-97.5
3-4.5
200ZJ-I-70A
730/980
305-976
43.1-86.4
2.8-3.8
200ZJ-I-68A
730/980
296-948
40.7-81.5
2.8-3.8
200ZJ-I-65A
730/980
350-950
36.4-72
2.5-4.3
200ZJ-I-63A
730/980
339-921
34.2-67.6
2.5-4.3
200ZJ-I-60A
730/980
324-870
30.8-62
2.5-4
200ZJ-I-58A
730/980
313-841
28.8-57.9
2.5-4
150ZJ-I-70A
730/980
139-401
44.3-91.2
2-3
150ZJ-I-65A
730/980
223-600
38.5-75.7
2.5-4
150ZJ-I-63A
730/980
216-582
36.2-71.1
2.5-4
150ZJ-I-60A
730/980
201-550
32.6-63.5
2.5-3.8
150ZJ-I-58A
730/980
194-532
30.5-59.3
2.5-3.8
150ZJ-I-55A
730/980
184-504
27.4-53.4
2.3-3.5
150ZJ-I-58C
730/980
200-596
28.4-61
2-3.2
150ZJ-I-57A
730/980
142-427
29.4-56.3
1.8-2.9
150ZJ-I-50A
730/980
171-460
21-43.1
2.5-3
150ZJ-I-48A
730/980
164-442
19.4-39.7
2.5-3
150ZJ-I-42C
980/1480
199-550
23.8-62.8
2.2-4.5
100ZJ-I-50A
980/1480
119-360
40.2-100.2
2.5-4.5
100ZJ-I-46A
980/1480
109-331
34-84.8
2.3-4.2
100ZJ-I-42A
980/1480
93-275
28.7-70.8
2.5-4
100ZJ-I-39A
980/1480
86-255
24.7-61
2.4-3.8
100ZJ-I-42B
980/1480
64-205
24.7-70.7
1.8-2.8
100ZJ-I-36A
980/1480
86-245
19-49.5
2-3.5
100ZJ-I-33A
980/1480
79-225
16-41.6
1.8-3.2
80ZJ-I-52A
980/1480
71-242
43.4-109.8
2.1-4.3
80ZJ-I-42A
980/1480
86-204
28.1-70.4
2.5-4.2
80ZJ-I-39A
980/1480
80-189
24.3-60.7
2.4-4
80ZJ-I-36A
980/1480
65-190
18.7-51.4
2.5-3.7
80ZJ-I-33A
980/1480
60-174
15.7-43.2
2.3-3.4
65ZJ-I-30A
980/1480
31-79
13.8-34.8
2-3
65ZJ-I-27A
980/1480
28-71
11.2-28.2
1.8-2.7
50ZJ-I-50A
980/1480
38-111
43.8-110.7
3-3.8
50ZJ-I-46A
980/1480
31-94
34.3-85.8
1.4-2.9
50ZJ-I-33A
980/1480
17-54
14.5-42.5
2.9-6
40ZJ-I-17A
1400/2900
4-23
9.1-44.6
2.5-4.5

Horizontal Centrifugal Slurry Pump Application: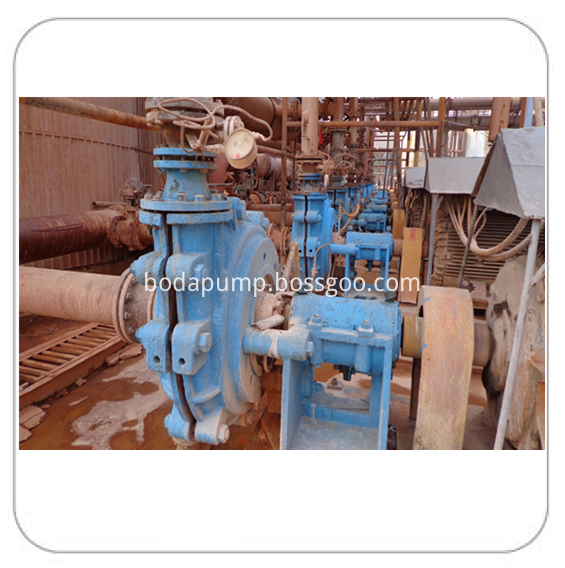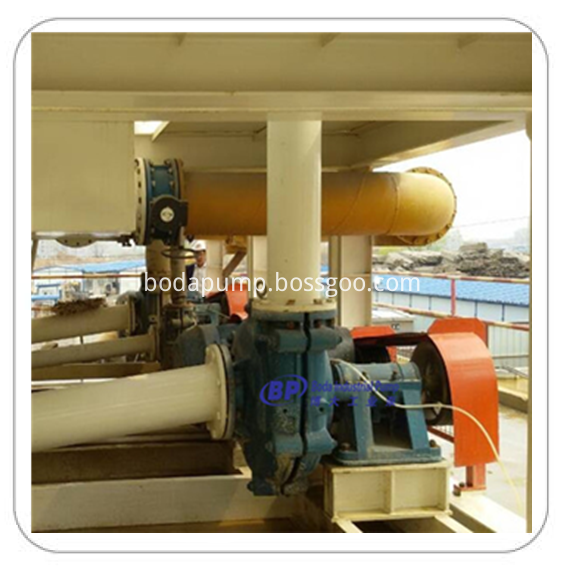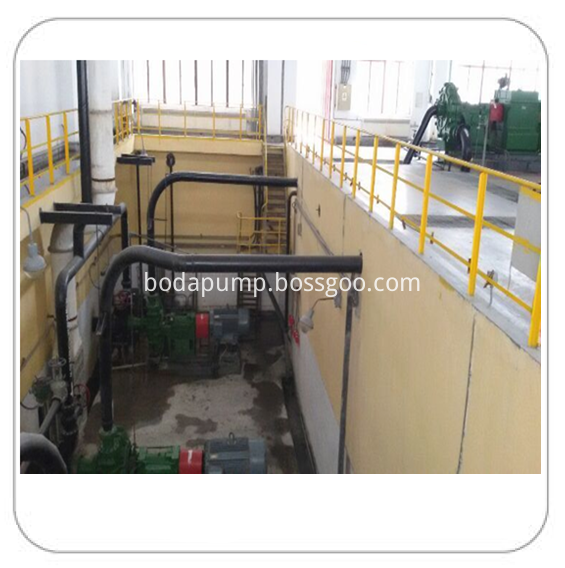 Save