Product Description
6/4 inch centrifugal slurry pump series BH(R) for gold mining
Widely used for delivering slurry with strong abrasion and high concentration for metallurgy, mines, coal and power plant, etc
Mining slurry pump

BH(R) series slurry pumps
Thicker wear parts
handling tough mining slurry
wear resistance
equivalent with world famous slurry pumps

Material:
high chrome A05 , A31 , A33 , A49 , Natural rubber etc
A49---used for lower PH condition especially for flue gas.(PH ≥ 4)
A33---transport plaster,nitric acid,vitriol,phosphate,etc. .(PH ≥ 1)
A05---used for higher wear condition with PH between 5-12.
Natural rubber---great wear resistance and corrosion resistance.

Advantages:
1.Our corrosion resistant slurry pump is heavy duty product,wet parts of which are mainly composed of natural rubber. It is characterized by great wear resistance,outstanding corrosion resistance and long service life.

2. It is flexible to select over current component materials .Except for natural rubber,customers can also choose other synthetic adhesive for special conditions according to their requirement .

3.With double casing structure ,our product is easy to replace the components and dismantle as well as cheap to maintain .

Sphere of applications:

Our corrosion resistance slurry pump is cantilevered centrifugal,suitable for conveying abrasive or corrosive

slurry ,extensively applied to metallurgy,mint,petroleum ,chemicals ,coal washing ,electric power ,

transportation ,river dredging ,building materials ,building materials,municipal works and so on .

Note:

1. The drive type can be classified into direct connection ,v-belt drive,gearbox reducer,fluid coupling drive,
variable frequency drive and more .

2. The discharge direction of our corrosion resistance slurry pump is oriented in any direction of the eight in accordance with the requirement in the specific working conditions. The discharge is settled upside usually if there is no requirement .

3. Three seal types are available , including packing seal , expeller seal and mechanical seal. The expeller seal is often used. Customers can also raise their requirement before placing the order.
Horizontal Abrasion & Corrosion Resistant Slurry Pump Performance Table:
Type

Allowable Mating Max.Power(kw)

Clear Water Performance

Impeller

Capacity Q

Head

H
(m)

Speed

n
(r/min)

Max EFF η(%)

NPSH)
(m)

No of Vanes

Impel Dia(mm)

(m3/h)

(L/S)

1.5/1B-BH

15

12.6-28.8

3.5-8

6-68

1200-3800

40

2-4

5

152

2/1.5B-BH

15

32.4-72

9-20

6-58

1200-3200

45

3.5-8

5

184

3/2C-BH

30

39.6-86.4

11-24

12-64

1300-2700

55

4-6

5

214

4/3C-BH

30

86.4-198

24-55

9-52

1000-2200

71

4-6

5

245

4/3D-BH

60

6/4D-BH

60

162-360

45-100

12-56

800-1550

65

5-8

5

365

6/4E-BH

120

6/4D-BH

60

180-396

50-110

7-61

600-1600

55

3-8

4

372

6/4E-BH

120

8/6E-BH

120

360-828

100-230

10-61

500-1140

72

2-9

5

510

8/6R-BH

300

8/6E-BH

120

360-828

100-230

7-52

400-1000

70

2.5-6

4

536

8/6R-BH

300

360-828

100-230

7-52

400-1000

70

2.5-6

4

536

10/8ST-BH

560

612-1368

170-380

11-61

400-850

71

4-10

5

686

12/10ST-BH

560

936-1980

260-550

7-68

300-800

82

6

5

762

14/12ST-BH

560

1260-2772

350-770

13-63

300-600

77

3-10

5

965

16/14ST-BH

560

1368-3060

380-850

11-63

250-550

79

4-10

5

1067

16/14TU-BH

1200

10/8E-BM

120

540-1440

150-400

14-60

600-1100

73

4-10

5

549
* Dimensionally Interchangeable with:
BM ≈Warman®M
BH≈Warman®AH
Horizontal Abrasion & Corrosion Resistant Slurry Pump Structure: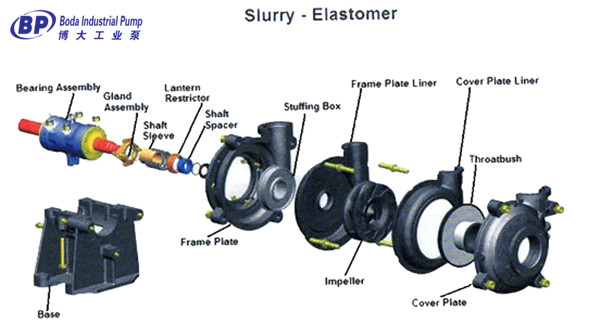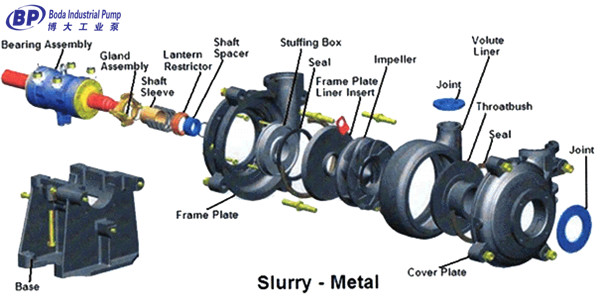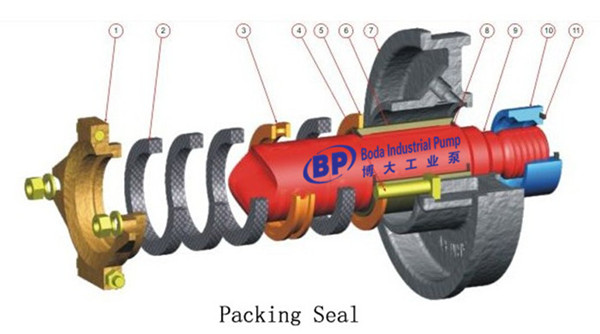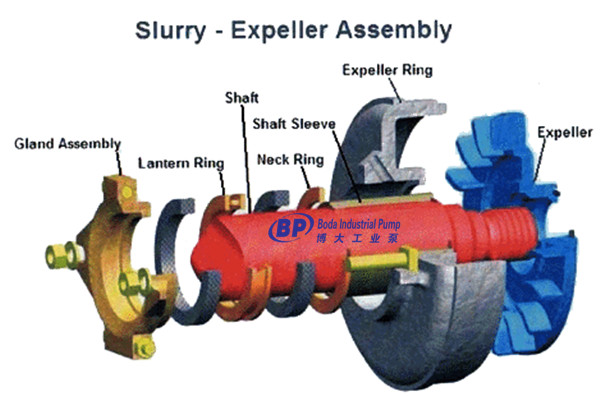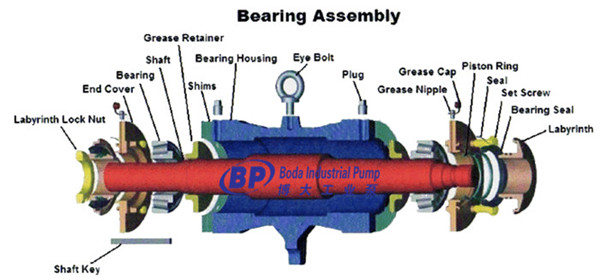 Horizontal Abrasion & Corrosion Resistant Slurry Pump Application: