Product Description
Pump Application
The BH series pumps apply to Alumina,Copper mining,Iron ore,Gas oil,Coal ,Electric industry,Phosphate,Bauxite,Gold,Potash, Wolfram,Water sewerage utilities,Sugar,Tobacco,Chemical fertilizer.

Pump Feature
- High head & High pressure & High Efficiency
- Anti-corrosive and wear resistant wet end parts
- Long working life
- Easy to maintain
- Exchanged with other pumps


Production Introduction
Pump Description
Type BH pump are cantilevered,horizontal,centrifugal slurry pumps. They are suitable for delivering low density slurry for metallurgical,mining,coal and building material departments. The shaft seal adopts both gland seal and centrifugal seal. And it could operate in high speed with small volumes to save floor area. The frame plates have changeable,wear-resistant metal liners rubber liners and the impeller are made of wear-resistant metal or rubber.


Material: The wet parts material of BH pumps could be Cr27,Cr28,CD4MCu,PU, rubber liner material, High chrome alloy material could be wear resistant and corrosive resistant.

Seal: Gland packing seal, Mechanical seal, expeller seal.
Horizontal Abrasion & Corrosion Resistant Slurry Pump Performance Table:
Type

Allowable Mating Max.Power(kw)

Clear Water Performance

Impeller

Capacity Q

Head

H
(m)

Speed

n
(r/min)

Max EFF η(%)

NPSH)
(m)

No of Vanes

Impel Dia(mm)

(m3/h)

(L/S)

1.5/1B-BH

15

12.6-28.8

3.5-8

6-68

1200-3800

40

2-4

5

152

2/1.5B-BH

15

32.4-72

9-20

6-58

1200-3200

45

3.5-8

5

184

3/2C-BH

30

39.6-86.4

11-24

12-64

1300-2700

55

4-6

5

214

4/3C-BH

30

86.4-198

24-55

9-52

1000-2200

71

4-6

5

245

4/3D-BH

60

6/4D-BH

60

162-360

45-100

12-56

800-1550

65

5-8

5

365

6/4E-BH

120

6/4D-BH

60

180-396

50-110

7-61

600-1600

55

3-8

4

372

6/4E-BH

120

8/6E-BH

120

360-828

100-230

10-61

500-1140

72

2-9

5

510

8/6R-BH

300

8/6E-BH

120

360-828

100-230

7-52

400-1000

70

2.5-6

4

536

8/6R-BH

300

360-828

100-230

7-52

400-1000

70

2.5-6

4

536

10/8ST-BH

560

612-1368

170-380

11-61

400-850

71

4-10

5

686

12/10ST-BH

560

936-1980

260-550

7-68

300-800

82

6

5

762

14/12ST-BH

560

1260-2772

350-770

13-63

300-600

77

3-10

5

965

16/14ST-BH

560

1368-3060

380-850

11-63

250-550

79

4-10

5

1067

16/14TU-BH

1200

10/8E-BM

120

540-1440

150-400

14-60

600-1100

73

4-10

5

549
* Dimensionally Interchangeable with:
BM ≈Warman®M
BH≈Warman®AH
Horizontal Abrasion & Corrosion Resistant Slurry Pump Structure: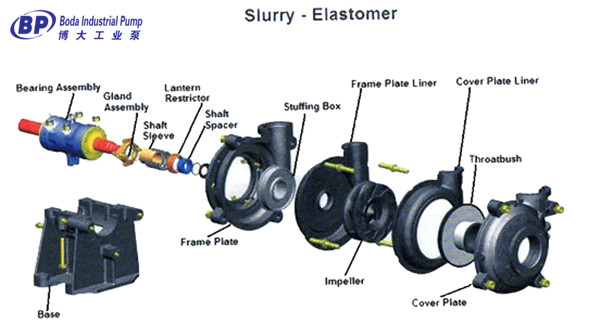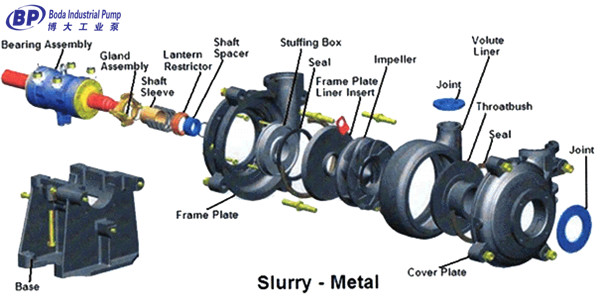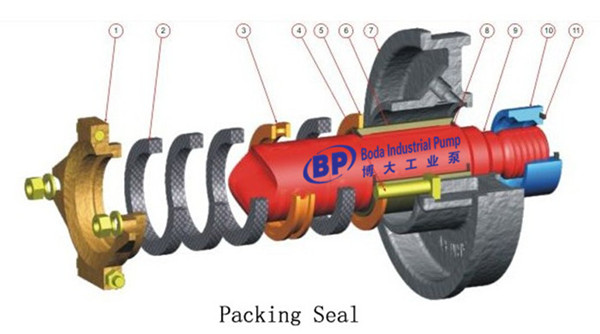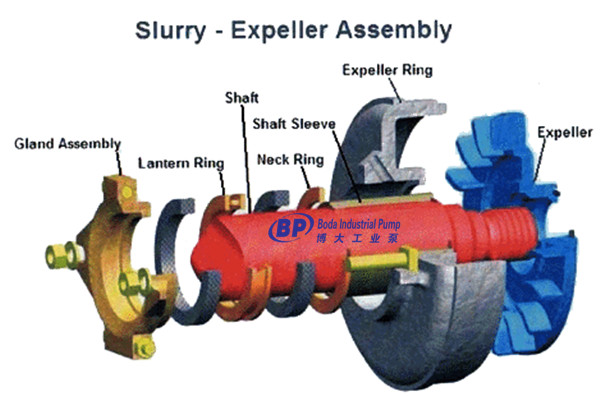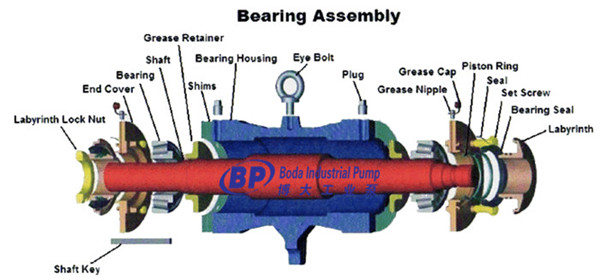 Horizontal Abrasion & Corrosion Resistant Slurry Pump Application: