Product Description
Slurry Pump (Dredge Pump for Sand and Gravel)
Technical Specifications
Size: 4-16 inches
Flow rate: 36-5040 m3/h
Head: 5-80m
Materials: Cr27,Cr28
Sealing methods: Packing seal, vice-impeller seal and mechanical seal

The dredge slurry pump, also named the gravel pump, is a horizontal centrifugal slurry pump which has a single casing. Of a large 360° rotating discharge opening, this industrial slurry pump adopts a unique clamped-style pump body and cover, quite easy to install and operate.

Features of Gravel Slurry Pumps
This slurry pump enjoys the following features:
1) All the bearings of this slurry pump adopt the cylinder structure which makes it easier to adjust the interval between impeller and the pump body and remove the parts during maintenance or inspection. Additionally, those bearings could be lubricated with grease;
2) The available sealing methods for the shaft seal of this sand pump are packing seal, vice-impeller seal and mechanical seal;
3) Designed with a wide flow passage, this slurry handling unit enjoys sound cavitation performance, high efficiency and strong resistance to abrasion;
4) Such transmission types as V-belt drive, flexible coupling transmission, gear reducer transmission, hydraulic coupling transmission, variable frequency drive are available for this slurry pump;
5) All parts of its flow passage are made of high-hardness cast alloy iron which is highly resistant to abrasion;
6) Designed with multiple optional operation speeds and transformation models, this industrial pumping equipment could work well in various conditions, especially the harsh conditions, and enjoy a long service lifespan, helping you gain more benefits.

Application of Slurry Dredge Pump
This slurry pump could be used to transfer abrasive or corrosive grains of bigger size that are not suitable for ordinary slurry pump. Given this, it has been widely used in mining, dredging, metallurgical industrials and sand conveyance and so on.

Gravel Slurry Pump Structure: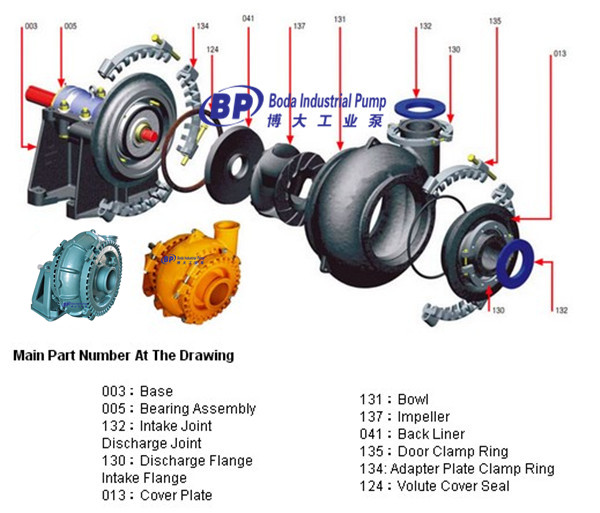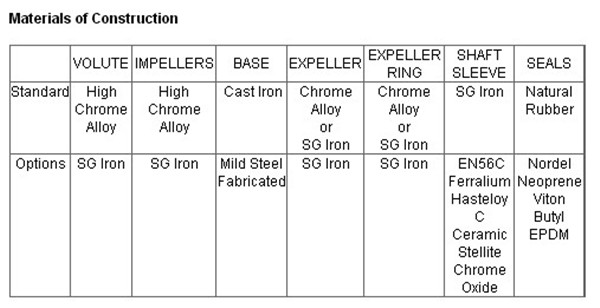 Gravel Slurry Pump Performance Table:
Type

Capacity

(l/s)

Head

(m)

Speed

(r/min)

Efficiency

(%)

NPSHr

(m)

Inlet Size

(mm)

Outlet Size

(mm)

Max.Diameter of flowed particle (mm)

100TZG-PD

10-70

3.5-51

600-1400

30-50

2.5-3.5

150

100

82

150TZG-PE

38-160

10-48

800-1400

50-60

3-4.5

200

150

127

200TZG-PS

60-272

13-50

500-1000

45-65

3-7.5

250

200

178

200TZGH-PS

100-360

28-80

500-950

60-72

2-5

250

200

180

250TZG-PF

100-420

11-58

400-850

50-70

2-4.5

300

250

220

250TZGH-PG

170-620

28-78

350-700

60-73

2-8

300

250

210

300TZG-PG

140-880

6-66

300-700

60-68

2-8

350

300

241

400TZG-PT

240-1060

9-48

250-500

60-72

3-6

450

400

254
* Dimensionally Interchangeable with:

TZG(H) ≈Warman®G(H)
Application: