Product Description
Coal and Power Plant Ash Pump Introduction
1)Type ZJ slurry pumps are widely used in the mining, metallurgy, power, chemistry, and construction industry to pump slurries with high abrasive and corrosive. It is suitable for handing slurry with maximum weight concentration of 45%(ash) or 60%(ore). It can be driven with direct driven belt, hydraulic, or variable frequency speed control methods. It also can be operated in serials or parallel connection.
2)ZJ series solid and liquid slurry pumps are a kind of effective wearable slurry pump they adopt the newest solid -liquid two phase flow velocity theory published internationally by now. ZJ Pumps are widely used in construction industry to pump high abrasive and corrosion slurry, chemical industry, building material.
Features:
The discharge outlet can be adjusted at eight directions with intervals of 45 degree to adapt various operating environments
1. High chrome alloy lining allows for various abrasive material handling;
2. Large handling size means fewer clogged impellers;
3. Robust design allows it to be in difficult application environments;
4. High efficiency enables it save large energy;
5. Strong abrasive resistance material means long life cycle and low maintenance cost;
6. Replaceable wear metal liner means simple maintenance.

Application:
It is used in electric power, metallurgy, coal, building materials, chemical industry.
Technical Data:
Outlet Diameter: 40-350 (mm)
Capacity: 4.5-2339 (m3 / h)
Head: 6.0-133 (m)
Horizontal Centrifugal Slurry Pump Technical Data:
Type
Speed
Capacity
Head
NPSH
rpm
m³/h
m
m
300ZJ-I-100A
490/590
758-1826
40.9-65.2
3-4.1
300ZJ-I-95A
490/590
720-1735
36.9-58.8
3-4.1
300ZJ-I-90A
590/730
745-1844
46.2-79.9
3.9-5.7
300ZJ-I-85A
590/730
704-1742
41.2-71.3
3.8-5.6
300ZJ-I-70A
730/980
945-2333
35.5-76.8
3.9-7
300ZJ-I-65A
730/980
877-2166
30.6-66.2
3.7-6.6
300ZJ-I-56A
730/980
588-1568
21.5-46
3.5-5.5
250ZJ-103A
590/730
593-1573
64.6-110.5
2.8-4.3
250ZJ-I-96A
590/730
595-1466
55.2-93.7
3.5-5.5
250ZJ-I-90A
590/730
558-1374
48.5-82.4
3.4-5.3
250ZJ-I-85A
730/980
560-1504
66.8-128.7
3.5-5.5
250ZJ-I-83A
730/980
547-1469
63.7-122.7
3.5-5.5
250ZJ-I-80A
730/980
527-1416
59.2-114
3.4-5.4
250ZJ-I-78A
730/980
514-1380
56.3-108.4
3.2-5.1
250ZJ-I-75A
730/980
447-1480
46.2-97.5
3-4.1
250ZJ-I-73A
730/980
435-1441
43.8-92.4
3-4.1
250ZJ-I-70A
730/980
417-1381
40.2-84.9
2.9-3.9
250ZJ-I-68A
730/980
405-1342
38-80.1
2.7-3.7
250ZJ-I-65A
730/980
445-1249
34.1-71
3-4.5
250ZJ-I-63A
730/980
431-1211
32-66.7
3-4.5
250ZJ-I-60A
730/980
411-1153
29.1-60.5
2.8-4.2
200ZJ-I-85A
730/980
329-907
71-133.7
2.8-5
200ZJ-I-75A
730/980
335-900
50.5-102.9
3-4.5
200ZJ-I-73A
730-980
326-876
47.8-97.5
3-4.5
200ZJ-I-70A
730/980
305-976
43.1-86.4
2.8-3.8
200ZJ-I-68A
730/980
296-948
40.7-81.5
2.8-3.8
200ZJ-I-65A
730/980
350-950
36.4-72
2.5-4.3
200ZJ-I-63A
730/980
339-921
34.2-67.6
2.5-4.3
200ZJ-I-60A
730/980
324-870
30.8-62
2.5-4
200ZJ-I-58A
730/980
313-841
28.8-57.9
2.5-4
150ZJ-I-70A
730/980
139-401
44.3-91.2
2-3
150ZJ-I-65A
730/980
223-600
38.5-75.7
2.5-4
150ZJ-I-63A
730/980
216-582
36.2-71.1
2.5-4
150ZJ-I-60A
730/980
201-550
32.6-63.5
2.5-3.8
150ZJ-I-58A
730/980
194-532
30.5-59.3
2.5-3.8
150ZJ-I-55A
730/980
184-504
27.4-53.4
2.3-3.5
150ZJ-I-58C
730/980
200-596
28.4-61
2-3.2
150ZJ-I-57A
730/980
142-427
29.4-56.3
1.8-2.9
150ZJ-I-50A
730/980
171-460
21-43.1
2.5-3
150ZJ-I-48A
730/980
164-442
19.4-39.7
2.5-3
150ZJ-I-42C
980/1480
199-550
23.8-62.8
2.2-4.5
100ZJ-I-50A
980/1480
119-360
40.2-100.2
2.5-4.5
100ZJ-I-46A
980/1480
109-331
34-84.8
2.3-4.2
100ZJ-I-42A
980/1480
93-275
28.7-70.8
2.5-4
100ZJ-I-39A
980/1480
86-255
24.7-61
2.4-3.8
100ZJ-I-42B
980/1480
64-205
24.7-70.7
1.8-2.8
100ZJ-I-36A
980/1480
86-245
19-49.5
2-3.5
100ZJ-I-33A
980/1480
79-225
16-41.6
1.8-3.2
80ZJ-I-52A
980/1480
71-242
43.4-109.8
2.1-4.3
80ZJ-I-42A
980/1480
86-204
28.1-70.4
2.5-4.2
80ZJ-I-39A
980/1480
80-189
24.3-60.7
2.4-4
80ZJ-I-36A
980/1480
65-190
18.7-51.4
2.5-3.7
80ZJ-I-33A
980/1480
60-174
15.7-43.2
2.3-3.4
65ZJ-I-30A
980/1480
31-79
13.8-34.8
2-3
65ZJ-I-27A
980/1480
28-71
11.2-28.2
1.8-2.7
50ZJ-I-50A
980/1480
38-111
43.8-110.7
3-3.8
50ZJ-I-46A
980/1480
31-94
34.3-85.8
1.4-2.9
50ZJ-I-33A
980/1480
17-54
14.5-42.5
2.9-6
40ZJ-I-17A
1400/2900
4-23
9.1-44.6
2.5-4.5

Horizontal Centrifugal Slurry Pump Application: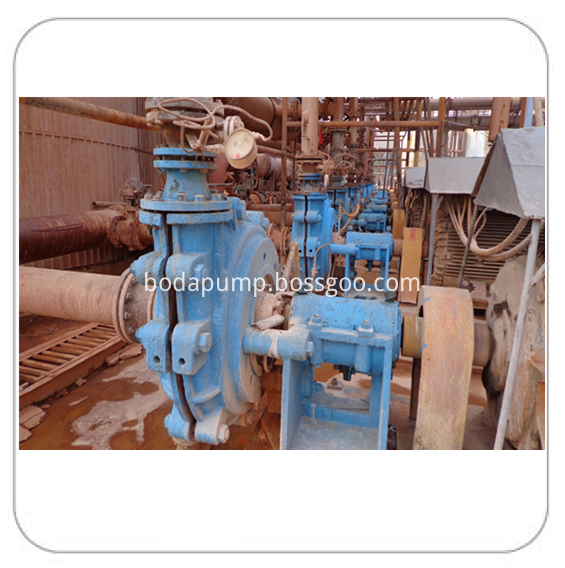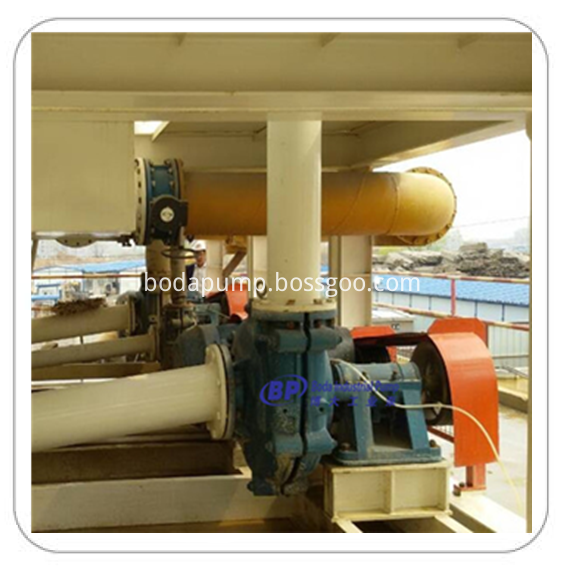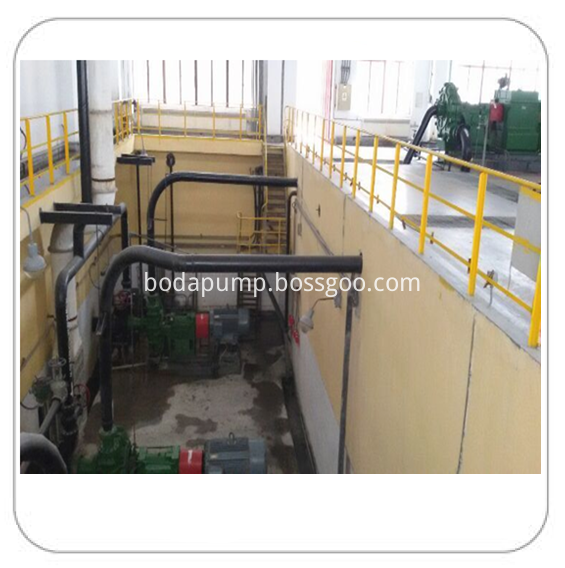 Save