Product Description
High chrome mineral processing slurry pumping machine / Slurry Pumping Machine / Mineral Processing Slurry Pumping Machine/High Chrome Mineral Processing Machine.

Introduction of Centrifugal Slurry Pump :
1. Abrasion and corrosion resisting
2. Material: hard alloy metal(Cr27,Cr28, Cr30, CD4MCu) or rubber liner optional,
3. Shaft seal: packing seal, expeller seal, and mechanical seal.
4. Power driver: electrical motor or diesel engine.
5.TZ
Application of Centrifugal Slurry Pump :
Deliver slurry with hard particle, in the mining, metallurgy, coal washing, power plant, sewage water treatment, dredging, and chemical and petroleum industries
1. Conveying mortar,slag which are strong corrosive and with solid particles.
2. Widely used in extracting sand, marine reclamation land,power plant,mining.

Features of Centrifugal Slurry Pump :
1. Multi-purpose sand and gravel pump, high efficiency and energy saving.
2. Horizontal, centrifugal, one stage, single casing slurry pump.
3. Distinctive innovation in hydraulic and structural design.
4. Pump discharge direction can be changed in any 45 degree,easy installation.
5. Long-term bearing life: The bearing assembly is composed of large diameter shaft and short overhang.
Component of Centrifugal Slurry Pump:
1. All of the metal wet parts can are made of high chromium alloy which has superior wear and erosion resistance or grey iron which has a high rigidity.
2. As the expeller ring is assembled together with the expeller, much pressure can be reduced effectively for the impeller. Meanwhile, it can still maintain a reliable sealing performance.
3. The parts such as labyrinth, labyrinth lock nut, end cover and shaft sleeve are used for bearing assembly; these parts can be changed easily and have high accuracy and longer service life.
4. Some fastening parts such as studs and bolts can be used for fixing the other parts securely. All the fastening parts can be attached easily, ensuring the safety.
5. All of the rubber parts have superior erosion resisting performance which can be used for a long life.
Drive type of Centrifugal Slurry Pump:
DC Type: The output shaft of a motor is directly connected to the input shaft of a pump via a pump coupler. This type of connection is suitable for applications where the speed of the slurry pump is the same as that of the motor.

CV Type: The pump is driven by a belt connected to the crankshaft of the engine. This way of connection allows for saving space, easy installation, and fast adjustment of pumping speed. The motor is fixed to the motor support frame which is located on the bearing support above the slurry pump.

ZV Type: Another type of belt drive that allows easy adjustment of pumping speed. The motor is directly fixed to the bearing support. This way of installation is suitable for motors with larger horsepower than is possible with CV type of installation. Due to the installation of motor onto the bearing support, this method helps save installation space.

CR Type: This type of belt drive makes it easier to adjust pumping speed. The installation allows both the motor and slurry pump to be fixed to the ground. The motor is installed to the side of the pump. This installation method is suitable for large-power motors.
Martime Application Slurry Pump Structure: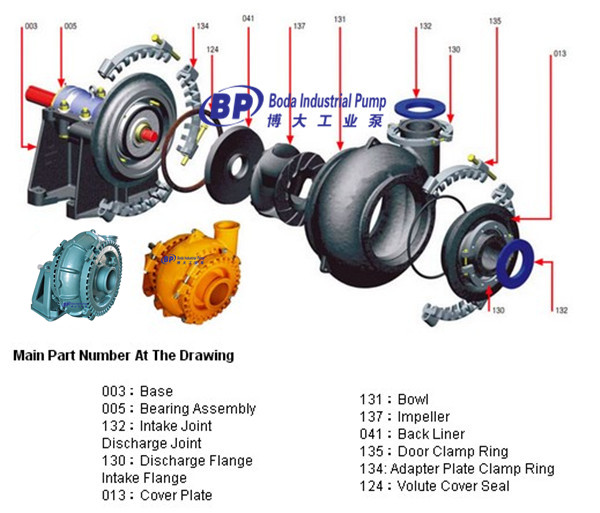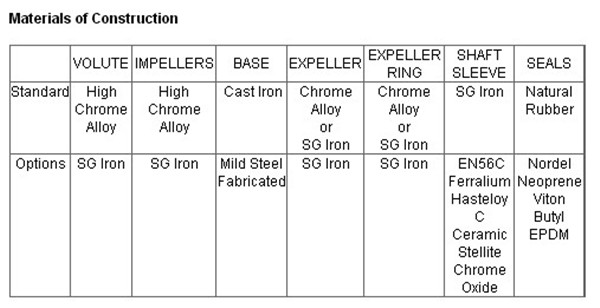 Gravel Slurry Pump Performance Table:
Type

Capacity

(l/s)

Head

(m)

Speed

(r/min)

Efficiency

(%)

NPSHr

(m)

Inlet Size

(mm)

Outlet Size

(mm)

Max.Diameter of flowed particle (mm)

100TZG-PD

10-70

3.5-51

600-1400

30-50

2.5-3.5

150

100

82

150TZG-PE

38-160

10-48

800-1400

50-60

3-4.5

200

150

127

200TZG-PS

60-272

13-50

500-1000

45-65

3-7.5

250

200

178

200TZGH-PS

100-360

28-80

500-950

60-72

2-5

250

200

180

250TZG-PF

100-420

11-58

400-850

50-70

2-4.5

300

250

220

250TZGH-PG

170-620

28-78

350-700

60-73

2-8

300

250

210

300TZG-PG

140-880

6-66

300-700

60-68

2-8

350

300

241

400TZG-PT

240-1060

9-48

250-500

60-72

3-6

450

400

254
* Dimensionally Interchangeable with:

TZG(H) ≈Warman®G(H)
Application: