Product Description
Products overview:
Cantilever ,horizontal centrifugal slurry pump , suitable for metallurgy ,mining ,coal , electric power , building materials, and other industrial departments to transport strong corrosive ,high concentration of slag pulp. This type pump can use dual multistage in series.

Products advantage:
1. High efficiency and energy saving
2. Corrosion resistance and anti-wear
3. Low noise, reliable operation
4. Long service life
5. Convenient maintenance

Structure characteristics:
1. Adopts horizontal, vertical axis medium open type double pump shell structure, lining for cemented carbide or rubber has good wear-resisting, corrosion resistance and high reliability
2.High efficiency hard alloy
3. To meet the different operation conditions, adopted the brief type structure bearing parts, selected high bearing capacity design, alloy bearing grease lubrication oil.
4. Through adjusting the clearance between protection board and impeller, ensuring the pump efficient Operation
5.Using packing seal, impeller sealing , container type mechanical seal to adapt to different operating mode requirement
6. Pump and drive can choose straight league transmission, triangle, hydraulic transmission device coupled transmission, reducer drive
7. The outflow direction can be installed by eight Angle rotation to adapt to different site installation conditions

Slurry pump features and uses:
Slurry Pump for the cantilever, double-hull suction horizontal centrifugal slurry pumps. The pump outlet position can be based on demand at 45 degrees intervals, rotating installation of eight different angles. Head in a small area of low flow, high abrasive slurry can be transported; in areas of high lift and large flow of light abrasive slurry delivery. Used in metallurgy, mining, coal, electricity, building materials, transportation and other industrial sectors strong abrasive, high concentration slurry, the type of multi-stage pump can also be used in tandem. Pumps have replaceable wear-resistant pump metal liner, impeller wear corrosion resistant metal or rubber. Pump liner and impeller pump using only wear metal. plastic pump for conveying the small particle size, no sharp corners and high concentration of slurry particles, but also can transport corrosive slurry.
Model pump seal packing seal can be used, vice impeller seals, packing plus auxiliary impeller seals, mechanical seals.

Packaging & Shipping
Wood is a kind of biomass materials, when used as packing material has many advantages:
Such as stronger, strong ability to resist mechanical damage, can bear larger stacking load, has a certain buffer performance, range, easy making, easy lifting and recycling performance is good wait for a characteristic, so still is the main mechanical and electrical equipment and industrial products packaging container transport.
Performance Table:
Type

Capacity

(l/s)

Head

(m)

Speed

(r/min)

Efficiency

(%)

NPSHr

(m)

Inlet Size

(mm)

Outlet Size

(mm)

Max.Diameter of flowed particle (mm)

75TZS-PD

24-55

9-52

1000-2200

30-71

4-6

100

75

62

100TZS-PE

40-100

12-56

800-1600

30-65

5-8

150

100

44

150TZS-PR

100-230

10-61

500-1140

30-72

2-9

200

150

63

200TZS-PST

65-380

11-82

400-1000

45-71

2-10

250

200

80

250TZS-PST

75-500

10-84

300-950

60-80

3-8

300

250

86

300TZS-PST

170-770

13-81

300-700

60-77

3-10

350

300

90

350TZS-PTU

380-850

11-63

250-550

60-82

4-10

400

350

135

450TZS-PTU

700-1500

13-57

200-400

75-85

5-10

500

450

130
* Dimensionally Interchangeable with:
TZS≈Warman®AH
Horizontal Abrasion & Corrosion Resistant Slurry Pump Structure: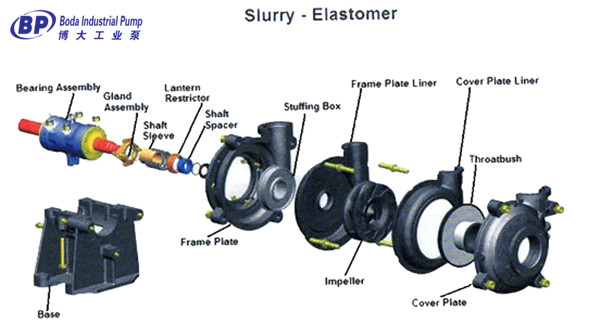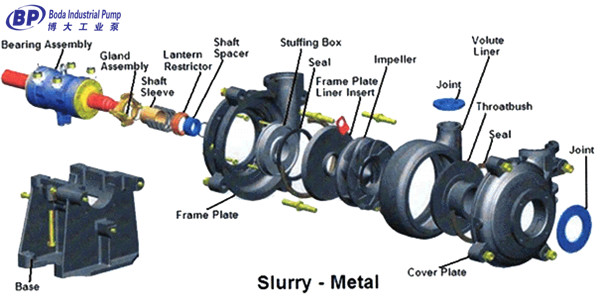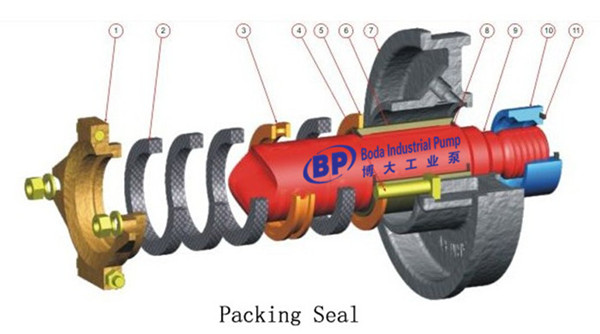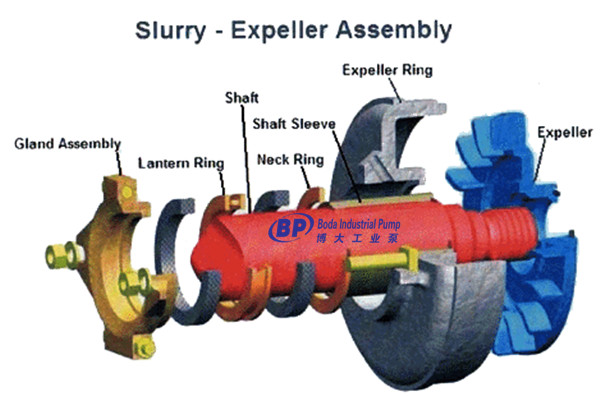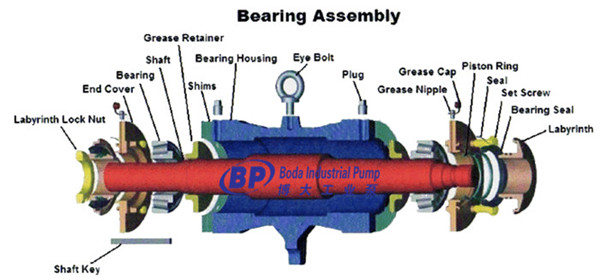 Horizontal Abrasion & Corrosion Resistant Slurry Pump Application: