Product Description
Centrifugal abrasive gold minerals slurry pump

The series of slurry pump is our company's manufacture of high efficiency and energy saving. which is manufactured with Shijiazhuang slurry pump introduction of Australia Pump.

Features:
High efficiency, wear resistant, stable performance, interchangeability of parts; high head; energy saving.

Replaceable wear-resistant metal liners, impellers&volute liners are made of wear-resistant metal(such as A05,A49,and other high chrome metal or rubber). The bearing layer and the wear-resistant layer can be separated.

High efficiency impeller of large diameter and slow rotation speed ensures the pump with long wear parts using life and low operating cost.

Bearing assembly use cylindrical structure, adjusting the space between impeller& front liner easily, being removed completely when being repaired. Grease lubrication.

Shaft seal could use the packing seal, expeller seal and mechanical seal. One pump also can be use packing seal with expeller seal together.

The discharge outlet can be positioned to 8 directions at intervals of 45 degrees.

This pump can be installed in multistage series to meet the delivery for long distance.

Drive types: direct coupling drive(DC), V belt drive(CR, CV, ZV, CL), etc.

Application:

Slurry pump is used for delivering slurry with strong abrasion and high concentration for metallurgy, mines, coal and power plant, etc.
Horizontal Abrasion & Corrosion Resistant Slurry Pump Performance Table:
Type

Allowable Mating Max.Power(kw)

Clear Water Performance

Impeller

Capacity Q

Head

H
(m)

Speed

n
(r/min)

Max EFF η(%)

NPSH)
(m)

No of Vanes

Impel Dia(mm)

(m3/h)

(L/S)

1.5/1B-BH

15

12.6-28.8

3.5-8

6-68

1200-3800

40

2-4

5

152

2/1.5B-BH

15

32.4-72

9-20

6-58

1200-3200

45

3.5-8

5

184

3/2C-BH

30

39.6-86.4

11-24

12-64

1300-2700

55

4-6

5

214

4/3C-BH

30

86.4-198

24-55

9-52

1000-2200

71

4-6

5

245

4/3D-BH

60

6/4D-BH

60

162-360

45-100

12-56

800-1550

65

5-8

5

365

6/4E-BH

120

6/4D-BH

60

180-396

50-110

7-61

600-1600

55

3-8

4

372

6/4E-BH

120

8/6E-BH

120

360-828

100-230

10-61

500-1140

72

2-9

5

510

8/6R-BH

300

8/6E-BH

120

360-828

100-230

7-52

400-1000

70

2.5-6

4

536

8/6R-BH

300

360-828

100-230

7-52

400-1000

70

2.5-6

4

536

10/8ST-BH

560

612-1368

170-380

11-61

400-850

71

4-10

5

686

12/10ST-BH

560

936-1980

260-550

7-68

300-800

82

6

5

762

14/12ST-BH

560

1260-2772

350-770

13-63

300-600

77

3-10

5

965

16/14ST-BH

560

1368-3060

380-850

11-63

250-550

79

4-10

5

1067

16/14TU-BH

1200

10/8E-BM

120

540-1440

150-400

14-60

600-1100

73

4-10

5

549
* Dimensionally Interchangeable with:
BM ≈Warman®M
BH≈Warman®AH
Horizontal Abrasion & Corrosion Resistant Slurry Pump Structure: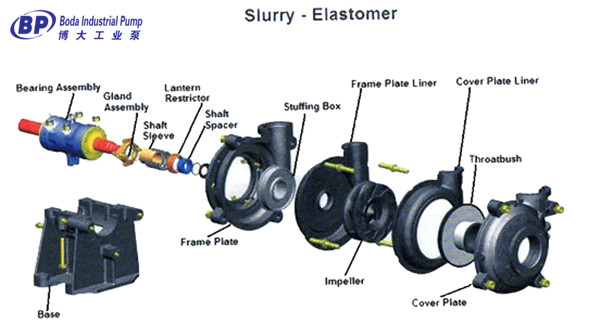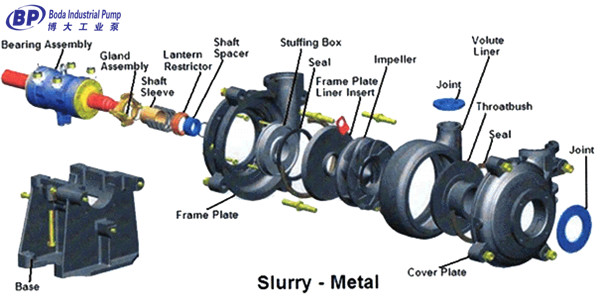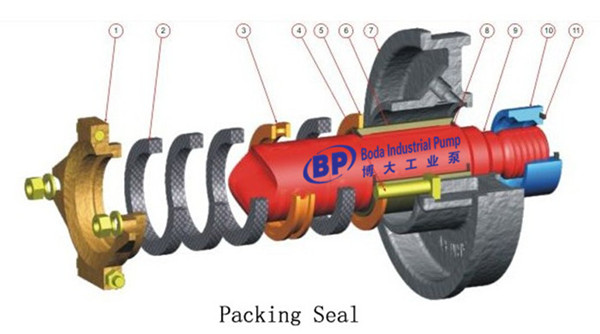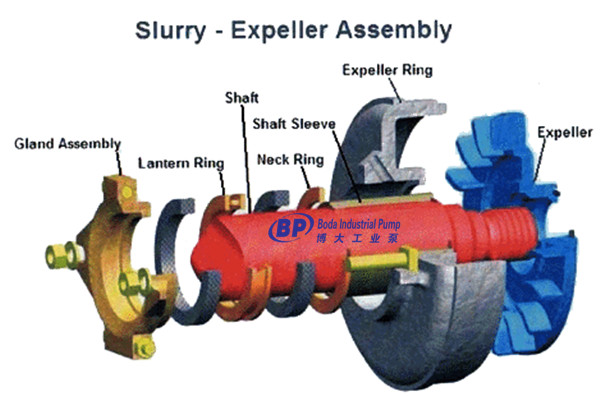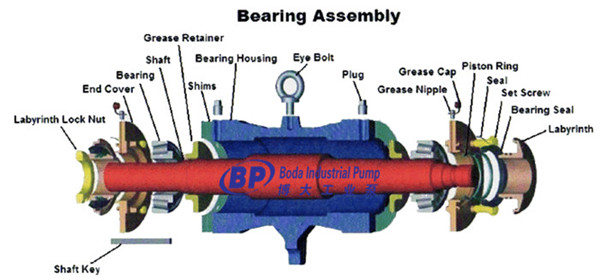 Horizontal Abrasion & Corrosion Resistant Slurry Pump Application: