Product Description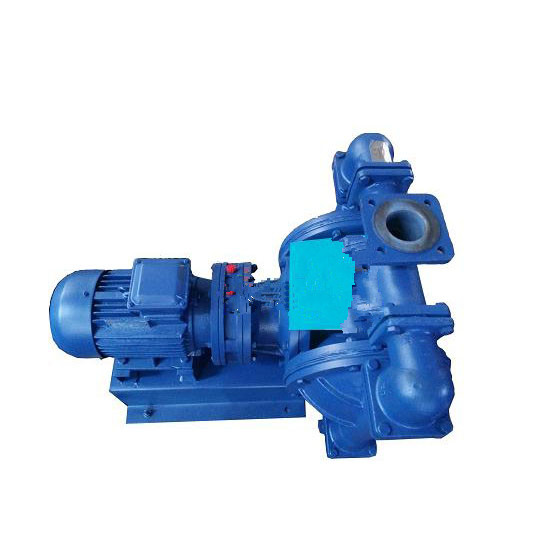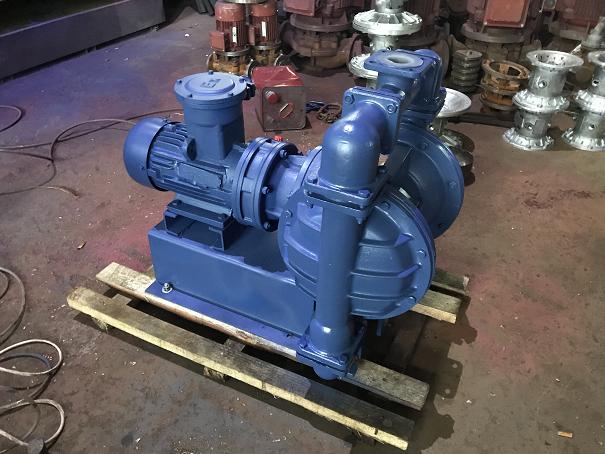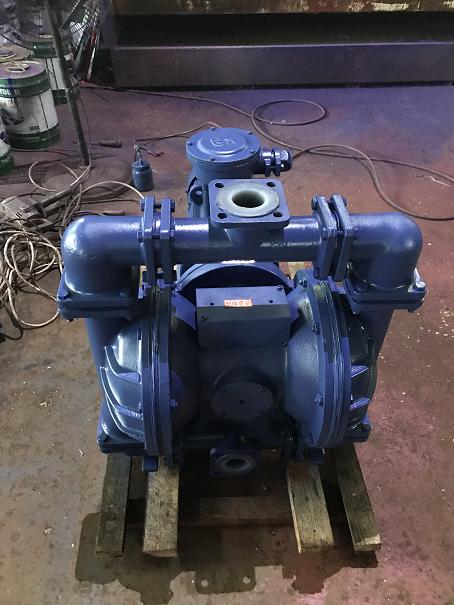 Flow rate: 0-20m3/h;

Head: 30m;

Power: 0.37-4kw;

Speed: 1450r/min;

Caliber: 25-65mm;

Temperature: -15-+150 ° C;

Self-priming height: 5-7m

BY lined fluorine electric diaphragm pump product overview

Electric diaphragm pump The new volumetric structure pump works on the principle that the motor drives the eccentric to squeeze the diaphragm through the shift gear box to change the volume of the diaphragm chamber to transport the medium out. The pump collects the impurity pump, the screw pump and the self-priming pump. Mud pump. The advantages of the shield pump are widely used in petrochemical, painting, electroplating, wastewater treatment, chemical and other industries, and have won unanimous praise from users. DBYCF46 type fully lined fluorine electric diaphragm pump is the technology of Yangzijiang Pump Co., Ltd. The personnel should carry out material improvement on the basis of DBY electric diaphragm pump according to the requirements of customers. The pump body is made of high quality HT200 cast iron, which has good physical properties. The inner lining part is made of polyfluoroethylene propylene with the reputation of plastic king. Flutetron), with strong acid resistance, strong alkali resistance, strong oxidation resistance, non-toxicity, no adhesion to the transport medium, can transport all corrosive media except molten metal sodium and liquid fluorine. Since its launch on the market, it has been deeply favored by users in the chemical, petrochemical, refining, chlor-alkali, acid, phosphate, pharmaceutical, pesticide, chemical fiber, dyeing, coking, gas, organic synthesis, non-ferrous smelting, steel, atomic energy industries.

DBY lining fluorine electric diaphragm pump product features

1, no need to irrigate water, self-priming capacity of more than 7 meters.

2. Through good performance, particles and mud with a diameter of less than 10 mm can pass without difficulty. The shearing force on the material is extremely low: how to suck in when working, so the agitation of the material is small, suitable Transport of unstable materials

3. Since the diaphragm will be separated by the conveying medium and the transmission mechanical parts, the medium will never leak outward. Moreover, the pump itself has no shaft seal and the service life is greatly extended. According to the same medium, the separator is divided into neoprene, fluororubber, nitrile rubber, etc., which can meet the requirements of different users.

4. Allow idling.

5, can be the container with particles of liquid, high viscosity, volatile, flammable, highly toxic liquid, can be exhausted.

6. The fluids that can be transported are extremely wide, from low viscosity to high viscosity, and viscous from corrosive.

7, no dynamic seal, easy maintenance to avoid leakage. No dead point when working

Model meaning of DBY lining fluorine electric diaphragm pump

Example: DBY-40CF46

D-electric type

BY-diaphragm pump

40-Import and export diameter 40mm

CF46-overflow part lined with fluorine

DBY lined fluorine electric diaphragm pump performance range

Flow rate: 0-20m3/h;

Head: 30m;

Power: 0.37-4kw;

Speed: 1450r/min;

Caliber: 25-65mm;

Temperature: -15-+150 ° C;

Self-priming height: 5-7m

DBY lined fluorine electric diaphragm pump use range

1. Pump peanut butter, kimchi, mashed potatoes, small red sausage, jam, applesauce, chocolate, etc.

2. Pumping paint, gum, and pigment.

3, adhesives and glue, all types can be pumped.

4, a variety of tiles, porcelain, bricks and pottery glaze.

5. After the oil well is drilled, pump the sediment and grout.

6. Pump various emulsions and fillers.

7. Pumping all kinds of sewage.

8. Use the pump as the tanker, and the barge clears the tank to absorb the sewage.

9, hops and baking powder slurry, syrup, molasses.

10. Pumping water from mines, tunnels, tunnels, beneficiation, and slag. Pumping cement grout and mortar.

11, a variety of rubber pulp.

12. Various abrasives, corrosives, petroleum and mud, cleaning grease and general containers.

13, a variety of highly toxic, flammable, volatile liquids.

14, a variety of strong acid, alkali, strong corrosive liquid.

15, a variety of high temperature liquids can withstand 150 ° C.

16. As a pre-stage pressure feeding device for various solid liquid separation devices...