Product Description
Gold Mining Slurry Pump
Various centrifugal pumps for pumping heavy slurry in agriculture,petrochem,manufacturing,energy and mining.

Pumps are designed and suitable for 3 main purposes:
1) Decrease electricity consumption and increase pump life

Our uniquely designed pumps limit slurry contact thus the efficiency is significantly higher and hence very big conventional slurry pumps can be replaced by a pump with a 20% of more smaller motor without affecting pumping performance. If energy bills and high cost of ownership is of concern, these pumps are the answer.

2) Lime and ash applications
Lime and ash pumping applications are particularly difficult for centrifugal slurry pumps because acceleration inside the pump causes the slurry to clump together into a solid clay degrading performance. We have a unique solution proven to work more efficiently and outlast conventional pumps.

3) High viscosity liquids
Superior throughput rates compared to gear and vane pumps using a unique new design. Great for bitumen, all emulsions and fats.
Horizontal Abrasion & Corrosion Resistant Slurry Pump Performance Table:
Type

Allowable Mating Max.Power(kw)

Clear Water Performance

Impeller

Capacity Q

Head

H
(m)

Speed

n
(r/min)

Max EFF η(%)

NPSH)
(m)

No of Vanes

Impel Dia(mm)

(m3/h)

(L/S)

1.5/1B-BH

15

12.6-28.8

3.5-8

6-68

1200-3800

40

2-4

5

152

2/1.5B-BH

15

32.4-72

9-20

6-58

1200-3200

45

3.5-8

5

184

3/2C-BH

30

39.6-86.4

11-24

12-64

1300-2700

55

4-6

5

214

4/3C-BH

30

86.4-198

24-55

9-52

1000-2200

71

4-6

5

245

4/3D-BH

60

6/4D-BH

60

162-360

45-100

12-56

800-1550

65

5-8

5

365

6/4E-BH

120

6/4D-BH

60

180-396

50-110

7-61

600-1600

55

3-8

4

372

6/4E-BH

120

8/6E-BH

120

360-828

100-230

10-61

500-1140

72

2-9

5

510

8/6R-BH

300

8/6E-BH

120

360-828

100-230

7-52

400-1000

70

2.5-6

4

536

8/6R-BH

300

360-828

100-230

7-52

400-1000

70

2.5-6

4

536

10/8ST-BH

560

612-1368

170-380

11-61

400-850

71

4-10

5

686

12/10ST-BH

560

936-1980

260-550

7-68

300-800

82

6

5

762

14/12ST-BH

560

1260-2772

350-770

13-63

300-600

77

3-10

5

965

16/14ST-BH

560

1368-3060

380-850

11-63

250-550

79

4-10

5

1067

16/14TU-BH

1200

10/8E-BM

120

540-1440

150-400

14-60

600-1100

73

4-10

5

549
* Dimensionally Interchangeable with:
BM ≈Warman®M
BH≈Warman®AH
Horizontal Abrasion & Corrosion Resistant Slurry Pump Structure: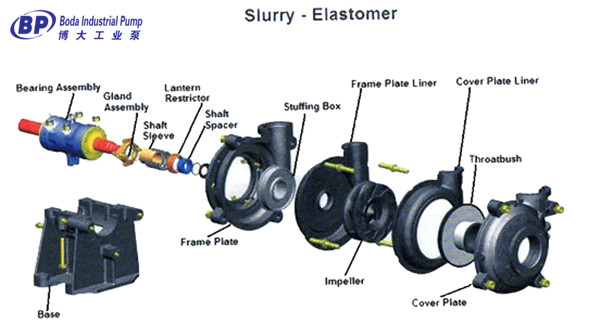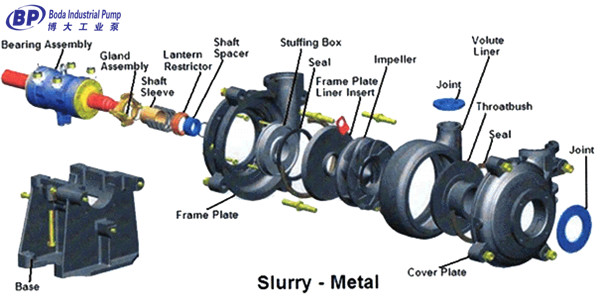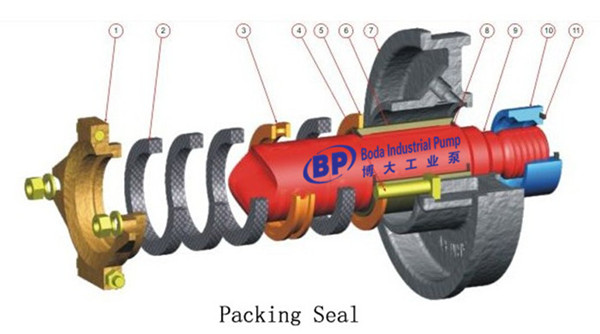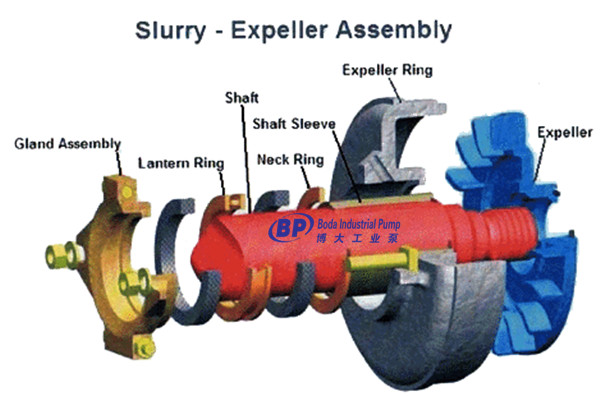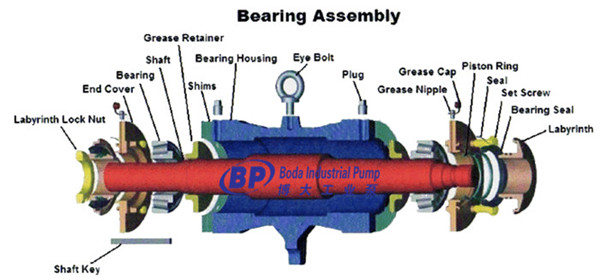 Horizontal Abrasion & Corrosion Resistant Slurry Pump Application: